After the late October storms, Chinook salmon returned to Dry Creek for the first time in years, just down the road from Tuiimyali village. One day—when our planned swimway comes into being—salmon will once again swim all the way to the cold waters of the high country, no longer blocked by dams.
Seeing the miracle fish swim and spawn was so poignant. Just a month before, wildfire had raced across the drought-parched terrain and burned to the doorsteps of the village. People and animals were evacuated as firefighters settled the flames down on Winnemem Wintu land, preventing it from burning neighboring homes.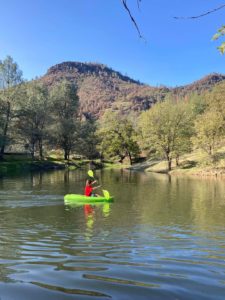 Thank you to all who have given generously to the Indian Cultural Organization during a tough time!
Since the fire, ICO has received new funding for cultural burning and fire resilience, enabling Winnemem Wintu to train for and put traditional skills to use protecting forests from megafires. The rains filled the dry pond, and created opportunities for practicing water skills for next year's Run4Salmon.